Cote de Texas' blog
really inspired me this morning. In her
recent post
, she gives the readers a tour of some of her favorite shopping resources. She also discusses how, if the budget is tight or if the budget has been maxed, she will occasionally use a less expensive source or item until her client can afford a more permanent solution. I love that she is willing to work with clients when the budget has constraints, because not everyone can furnish and entire house all at once (and indeed, it is sometimes desirable to take a little time).
I enjoy those magazine articles that show a room done with two different budgets, one extravagant and one frugal. It is so interesting to see how a look can be accomplished two different ways, and to see what designers will splurge on, and what they will compromise on.
Because I am so familiar with many of the furniture lines, I often see when there are different variations of a similar design. Frequently one is very high end, and one is more reasonably priced. Here are some of my favorites.
High end buy: Kevin Reilly for Holly Hunt, Altar Hanging Light. This is one of Holly Hunt's signature items, and took the design world by storm because of its beauty and originality.
Budget buy: Restoration Hardware pillar candle chandelier
Worlds Away Klysmos coffee table
Higher end: Oly "Walker" bed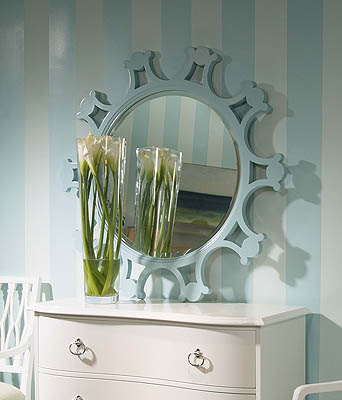 Budget: Century furniture mirror
High end: Dessin Fournir Otley mirror. This is spectacular in real life, and is hand carved out of wood.
Budget: Worlds Away Gold Leaf Iron Lamp
High End: Mattaliano Poillerat Lamp
Of course, budget is a relative term, but the 'budget' items pictured here are often thousands of dollars less. However, I always think it is best to see a piece of furniture in person before ordering (although this is not always possible) in order to judge its quality and construction. It is hard to tell the difference sometimes when looking at the pictures from a distance, but usually there are big differences from one item to another in craftsmanship, quality of materials, and ultimately longevity. Quite often you truly get what you pay for; one of the values of a great interior designer is helping you figure out what to splurge on, and what to save on.